Fragile X Syndrome: Overview, Epidemiology, Market, Emerging Drugs and Key players
DelveInsight's 'Fragile X Syndrome (FXS) Market Insights, Epidemiology and Market Forecast–2030' report deliver an in-depth understanding of the Fragile X Syndrome (FXS), historical and forecasted epidemiology as well as the Fragile X Syndrome market trends in the United States, EU5 (Germany, Spain, Italy, France, and United Kingdom) and Japan.
Fragile X Syndrome (FXS) is a genetic disease due to a CGG trinucleotide expansion, named full mutation (greater than 200 CGG repeats), in the fragile X mental retardation 1 gene locus Xq27.3; which leads to an hyper-methylated region in the gene promoter therefore silencing it and lowering the expression levels of the fragile X mental retardation 1, a protein involved in synaptic plasticity and maturation.
Fragile X Syndrome Epidemiology Insights
The total cases of Fragile X Syndrome (FXS) in 7MM in 2017 were 117,962
The diagnosed prevalent cases of Fragile X Syndrome in the United States in 2017 were 67,654
How will Disease transform Fragile X Syndrome Market?
According to DelveInsight, Fragile X Syndrome market size in 7MM in 2017 was USD 33.8 Million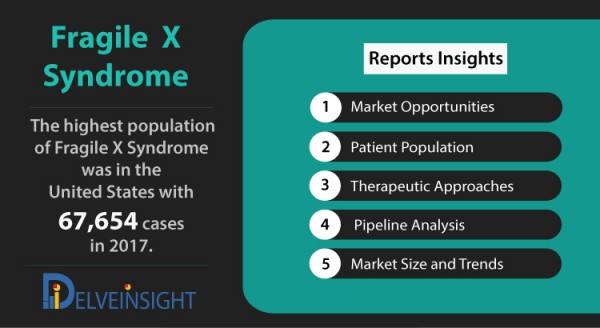 The FXS market outlook of the report helps to build a detailed comprehension of the historical, current and forecasted FXS market trends by analyzing the impact of current therapies on the market, unmet needs, drivers and barriers, and demand of better technology.
This segment gives a thorough detail FXS market trend of each marketed drug and late-stage pipeline therapy by evaluating their impact based on the annual cost of therapy, inclusion and exclusion criteria's, mechanism of action, compliance rate, growing need of the market, increasing patient pool, covered patient segment, expected launch year, competition with other therapies, brand value, their impact on the market and view of the key opinion leaders.
To know more about Fragile X Syndrome Market, click here @ https://www.delveinsight.com/report-store/fragile-x-syndrome-fxs-market
Fragile X Syndrome Market Drivers
Funding and cooperation of various organizations
Identifying potential targets by animal models
Development of novel therapies
Fragile X Syndrome Market Barriers
Failure of Clinical Trials
Disease Burden
For more information on Fragile X Syndrome Market trends, click here to get sample pages:- https://www.delveinsight.com/sample-request/fragile-x-syndrome-fxs-market
Media Contact
Company Name: DelveInsight
Contact Person: Priya Maurya
Email: Send Email
Phone: +919650213330
City: Albany
State: New York
Country: United States
Website: https://www.delveinsight.com/