AI in Fintech Market Size, Segments Analysis, Future Opportunity, Emerging Trends and Forecasts 2021-2030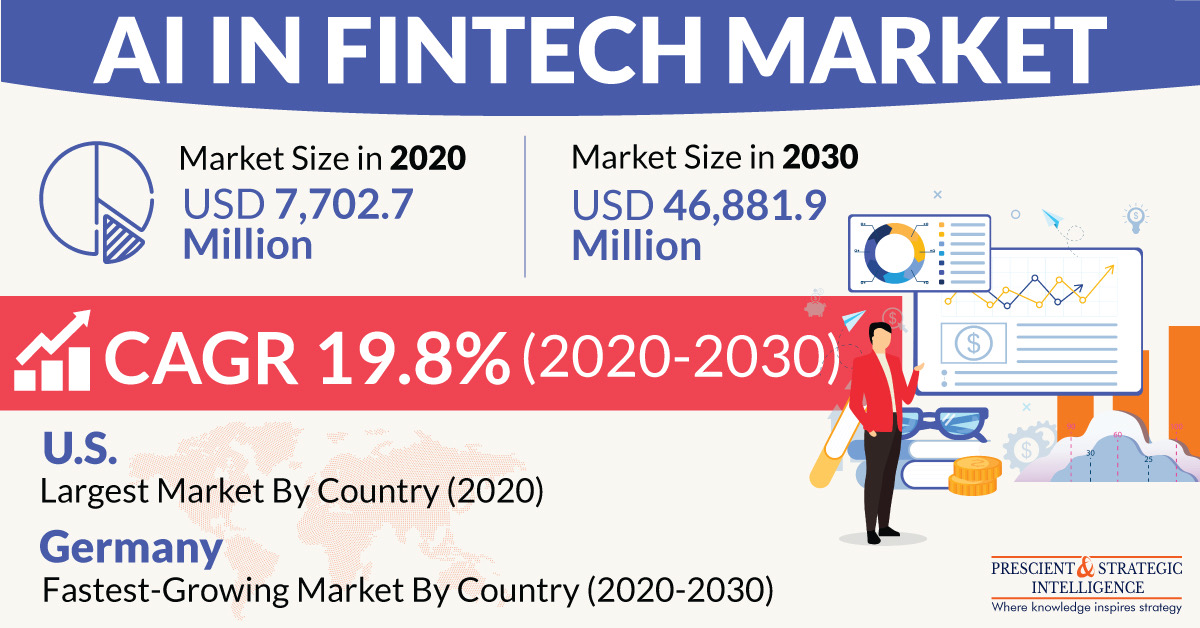 In 2020, North America region was the largest revenue contributor to the AI in fintech market. This is mainly attributed to the developed IT infrastructure, high investment, penetration of 5G technology, and high fintech adaption rate in the region.
In contemporary years, digital payment platforms have replaced traditional wallets due to the growing internet and smartphone penetration and ongoing innovations in mobile payment solutions. Nowadays, fintech companies are constantly adding new capabilities, such as facial recognition and biometric access control, in digital wallets to meet the evolving needs of end use industries and customers. Thus, the increasing advancements in mobile payment platforms will accelerate the use of artificial intelligence (AI) technology in fintech solutions.
Besides, the burgeoning demand for process automation among financial institutions will also help the AI in fintech market grow at a robust CAGR of 19.8% during 2020–2030. The market was valued at $7,702.7 million in 2020, and it is projected to generate $46,881.9 million revenue by 2030. AI solutions allow financial organizations to automate processes, reduce the frequency of errors, and decrease operational costs. For example, financial companies around the world are deploying AI chatbots as customer assistants for customer care executives, sales, and online chat executives.
Request for sample pages of this report: https://www.psmarketresearch.com/market-analysis/ai-in-fintech-market/report-sample
AI-enabled fintech solutions are used for credit scoring, quantitative and asset management, fraud detection, and chatbots. In the preceding years, cloud-enabled and on-premises AI solutions were primarily used for quantitative and asset management as AI allows fundamental analysts to conduct numerous research activities and obtain information rapidly. Owing to these advantages, AI-enabled solutions help analysts discover accurate investment ideas. In addition to solutions, the asset management sector also uses managed and professional services to optimize data management in a better way.
At present, the AI in fintech market is highly competitive due to the presence of numerous players, such as Alphabet Inc., Amazon Web Services Inc., Cognizant Technology Solutions Corporation, HCL Technologies Limited, IPsoft Incorporated, IBM Corporation, Intel Corporation, Microsoft Corporation, SAS Institute Inc., and Salesforce.com. In recent years, market players have engaged in partnerships and collaborations to consolidate their position. For instance, in April 2020, Verient System INC signed an agreement with one of the largest banking organizations in the world to offer its new standard solution for corporate security and fraud investigations.
According to P&S Intelligence, the North American region was the dominant user of AI-supported fintech solutions in the last few years, owing to the large-scale adoption of fintech solutions and the existence of a well-established IT infrastructure in Canada and the U.S. Besides, the hefty investments being made in the fintech industry and high penetration of 5G technology will also propel the use of AI-enabled solutions by financial companies in the region. Moreover, the introduction of government initiatives, such as the American AI Initiative of the U.S. government, will facilitate the use of AI in the economy in the coming years.
Browse detailed report on Artificial Intelligence in Fintech Market Trends, Business Strategies, Regional Outlook, Challenges and Analysis Through 2030
However, the Asia-Pacific region is projected to display the fastest growth in the AI in fintech market throughout the forecast period (2021–2030). This will be on account of the growing IT investments, prospering economy, increasing support of governments for AI and IoT development and deployment in end use sectors, and escalating use of state-of-the-art technologies in APAC countries. In addition, the mounting investments being made by market players in the untapped markets of the region will also support the market growth in the region.
Thus, the ongoing innovations in digital wallets and growing focus of banks and financial companies on process automation will lead to the widescale adoption of AI-enabled fintech solutions globally.
Artificial Intelligence in Fintech Market Size Breakdown by Segments
Based on Component
Based on Deployment
Based on Application
Credit Scoring
Fraud Detection
Chatbots
Quantitative and Asset Management
Geographical Analysis
North America
Europe

Germany
France
U.K.
Italy
Spain

Asia-Pacific

Japan
China
India
Australia
South Korea

Latin America
Middle East and Africa

Israel
U.A.E.
South Africa
Browse More Reports
Fraud Detection and Prevention Market – Geographically, the fraud detection and prevention market is predicted to exhibit huge expansion in the Asia-Pacific and North American regions in the forthcoming years. This will be because of the rising prevalence of various types of frauds in these regions.
Artificial Intelligence in BFSI Market – Currently, the AI in BFSI market is observing the trend of the usage of advanced AI-based data analytics to improve compliance and deal with fraudulent transactions. Moreover, AI algorithms find application in anti-laundering activities to reduce the time taken.
Media Contact
Company Name: P&S Intelligence
Contact Person: Abhishek
Email: Send Email
Phone: +918887787886
Address:Noida Sector 2
City: Noida
State: UP
Country: India
Website: https://www.psmarketresearch.com/market-analysis/ai-in-fintech-market