3D Cell Culture Market To Raise Expressively With 10.7% CAGR By 2028 Due To Launch of New Products And Wide Applications of 3D Protocols in Biological Research | Grand View Research, Inc.
According to a new report published by Grand View Research, the launch of novel products and the increasing need for advancements in hydrogels for providing robust platforms for studying human and cellular physiology is expected to boost the 3D cell culture industry growth in the coming years.
3D Cell Culture Industry Overview
The global 3D cell culture market size was valued at USD 1.5 billion in 2020 and is expected to reach USD 3.48 billion by 2028 registering a CAGR of 10.7% during the forecast period.
As 3D cultures can closely mimic a typical morphology and microarchitecture of organs, they are widely used in studies that require in vivo model systems to analyze the effects of a foreign drug over body tissues and organs. Moreover, biomimetic tissue constructs used to generate 3D organotypic structures drove a large number of research entities to adopt 3-dimensional cell culture techniques. In addition, the usage of 3D tissue-engineered models for Covid-19, cancer, and other clinical disorders has emerged as an alternative approach to traditional techniques. This also shows great potential in providing a relatively simple and inexpensive in vitro tumor-host environment compared to 2D techniques.
Gather more insights about the market drivers, restrains and growth of the Global 3D Cell Culture Market
The high utility of 3-dimensional models for research about Covid-19 and respiratory diseases is expected to offer significant growth opportunities to the market. Airway and air-liquid interface organoids have been used as tools for the development and discovery of antiviral drugs, and as experimental virology platforms to study the immune responses and infectivity of SARS-CoV-2. Scaffold-based and scaffold-free techniques facilitate the bio-fabrication of realistic models that can be used for the development of novel therapeutics and vaccines against Covid-19.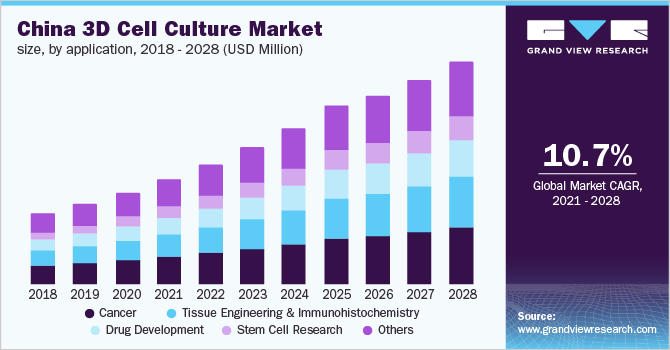 Several other major factors driving the market growth include the launch of new products and wide applications of 3D protocols in biological research. For instance, in December 2020, eNUVIO Inc., a Canada-based biotechnology company, launched EB-Plate, a completely reusable microplate for 3D cell culture. This is expected to reduce the wastage of single-use plastics, increase the utility of 3-dimensional microplates, and propel zero-waste movement in laboratories.
Similarly, standard 2D analysis methods can easily be applied to RAFT 3D cultures manufactured by Lonza. Since these novel technologies do not require many changes to the existing 2D culture methods, they are adopted by many laboratories across the globe. In addition, Lonza has also developed 3D cell culture models to enhance research in areas of hepatic signaling pathways and drug-induced liver injury to improve in vitro hepatotoxicity testing.
3D Cell Culture Market Segmentation
Based on the Technology Insights, the market is segmented into Scaffold-based, Scaffold-free and Bioreactors.
Scaffold-based technology accounted for the largest revenue share of over 68.96% in 2020. The use of hydrogels as scaffolds in 3-dimensional cell culture-based research enables the incorporation of sophisticated biochemical and mechanical signs as a mirror of the native extracellular matrix.
Magnetic levitational assembly of 3D tissue constructs is an emerging and fast-growing label & scaffold-free approach for tissue engineering. This is expected to drive the scaffold-free segment with the fastest CAGR over the forecast period.

Based on the Application Insights, the market is segmented into Cancer, Tissue Engineering & Immunohistochemistry, Drug Development, Stem Cell Research, and Others.
The cancer segment dominated the market with the largest revenue share of 24.56% in 2020. The use of spheroids as model systems during the development of anticancer therapies drives R&D in this segment.
The stem cell research segment is expected to register the fastest CAGR from 2021 to 2028.
The latter exhibits a robust pipeline of unique clinical candidates, inclusive of an extracellular matrix scaffold targeted toward the treatment of conditions associated with articular cartilage.
Based on End-use Insights, the market is segmented into Biotechnology and Pharmaceutical Industries, Research Laboratories and Institutes, Hospitals and Diagnostic Centers, and Others.
The biotechnology and pharmaceutical industries segment generated the largest revenue share of over 46% in 2020.
The presence of diagnostic centers, such as Kiyatec that are actively involved in providing 3D models for advanced research, is expected to boost the segment growth in the coming years.
Factors, such as the urgent need for more rapid and accurate diagnostic services and the advantages of 3D models over 2D models in providing detailed physiological information, boost the hospitals and diagnostic centers segment growth.
Based on the Regional Insights, the market is segmented into North America, Europe, Asia Pacific, Latin America, and Middle East & Africa
North America led the global market in 2020 and accounted for the highest revenue share of over 43%.
Asia Pacific is estimated to be the fastest-growing regional market from 2021 to 2028 owing to increasing investments by various international companies in the emerging economies of this region.
Browse through Grand View Research's Biotechnology Industry Research Reports.
Regenerative Medicine Market – The global regenerative medicine market size was valued at USD 27.29 billion in 2020 and is expected to grow at a compound annual growth rate (CAGR) of 11.27% from 2021 to 2027. The emergence of gene therapy coupled with the developments in stem cell and tissue engineering are expected to fuel the market growth.
Cell Line Development Market – The global cell line development market size was estimated at USD 2.67 billion in 2015 and is anticipated to grow at a CAGR of 12.9% over the forecast period. The growing biopharmaceutical industry is anticipated to drive the demand for cell line development procedures.
Market Share Insights:
June 2020: Corning, Inc. introduced the Corning X-SERIES cell processing platform for cell and gene therapy applications. This platform delivers sterile, fast, efficient, and automated processing.
January 2021: Research study reported the development of polysaccharide hydrogel-based 3D printed tumor models, which can be used for high throughput screening of anti-cancer drugs.
Key Companies Profile:
Major market players are focusing on novel product launches and collaborations with other players to enhance the market presence.
Some prominent players in the global 3D cell culture market include
Merck KGaA
Thermo Fisher Scientific, Inc.
PromoCell GmbH
Greiner Bio One International GmbH
Corning, Inc.
3D Biomatrix
Lonza
Avantor Performance Materials, LLC
Tecan Trading AG
3D Biotek LLC
Global Cell Solutions, Inc.
InSphero
Order a free sample PDF of the 3D Cell Culture Market Intelligence Study, published by Grand View Research.
About Grand View Research
Grand View Research is a full-time market research and consulting company registered in San Francisco, California. The company fully offers market reports, both customized and syndicates, based on intense data analysis. It also offers consulting services to business communities and academic institutions and helps them understand the global and business scenario to a significant extent. The company operates across multitude of domains such as Chemicals, Materials, Food and Beverages, Consumer Goods, Healthcare, and Information Technology to offer consulting services.
Web: https://www.grandviewresearch.com
Media Contact
Company Name: Grand View Research, Inc.
Contact Person: Sherry James, Corporate Sales Specialist – U.S.A.
Email: Send Email
Phone: 1888202951
Address:Grand View Research, Inc. 201 Spear Street 1100 San Francisco, CA 94105, United States
City: San Francisco
State: California
Country: United States
Website: https://www.grandviewresearch.com/industry-analysis/3d-cell-culture-market