We Love Doodles Launches New Dog Products

We Love Doodles has just launched a series of dog products for all types of Poodle-cross dogs. First, We Love Doodles has created a long-pin slicker brush that will remove tangles, knots, mats, and loose hair from your dog. Second, they recently released a 4-in-1 dog shampoo that will detangle, clean, condition, and moisturize the dog.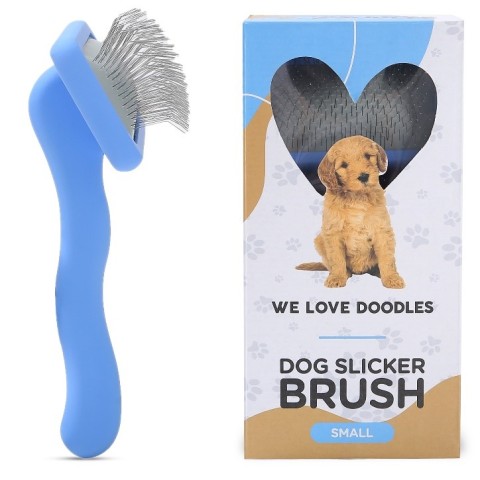 The We Love Doodles slicker brush is a high-quality product used to make brushing less complicated. It includes long bent pins that will remove tangles and mats from your dog's coat. Unlike the conventional slicker brushes, this brush will get deep into your dog's coat without scratching its skin. Each brush pin is over 1 inch long and it is bent at a 45-degree angle so it won't both your doodles skin.
Additionally, it contains 50% longer and denser pins so it will also save you time when you brush your dog. It's great for all doodle dogs including Goldendoodles, Labradoodles, Maltipoos, Cockapoos, Cavapoos, Bernedoodles, and more!
The We Love Doodles brush also comes with a long ergonomic handle that is approximately 7 inches long. It's also made of solid wood that is colored blue. The brush comes with a 100% satisfaction guarantee so if you or your puppy isn't happy, you can get a full refund.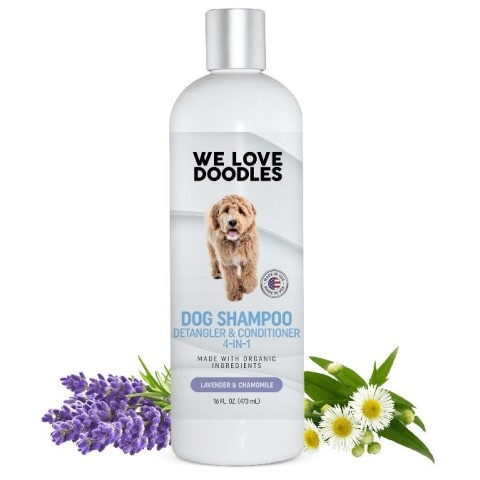 We Love Doodles also released a 4-in-1 dog shampoo that detangles, cleans, moisturizes, and conditions your dog's coat. This will keep your dog's coat soft, smelling good, and less tangled with one easy solution. The shampoo is manufactured, tested, and produced in one of the highest quality facilities in the United States.
Additionally, the We Love Doodles shampoo contains certified organic ingredients that are safe, non-irritating, and natural. This eco-friendly dog shampoo is great for Goldendoodles, Labradoodles, Bernedoodles, and any other doodles. There are no harsh ingredients which means it is safe and effective to use. You will find no synthetic dyes, no parabens, no formaldehyde, and no alcohol. It's all the good stuff and none of the bad.
The We Love Doodles dog shampoo also comes with a 100% satisfaction guarantee so if you or your dog don't like it, they will give you your money back.
In the future, We Love Doodles will also be releasing more dog grooming products including dog grooming scissors and detangler. The company is rapidly growing and expanding its operations.
Media Contact
Company Name: We Love Doodles
Contact Person: Garrett Yamasaki
Email: Send Email
Phone: (408) 475-6169
Address:3182 Campus Dr. #275
City: San Mateo
State: California, 94403
Country: United States
Website: welovedoodles.com/