Former military doctor launches a next-level electrolytes drink mix 'IV2' on Kickstarter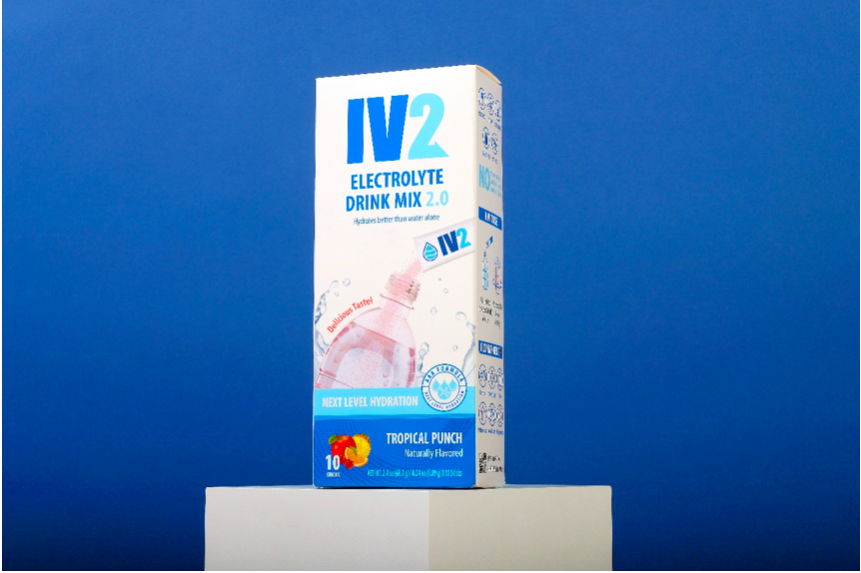 This unique solution offers better hydration effect as compared to water.
IV2 Group Inc., founded by a former medical doctor in South Korean special forces, announced that they will launch 'IV2' in the United States via Kickstarter on August 16th, 2022.
IV2 is an Amino Acid-based Oral Rehydration Solution (AA-ORS), which has a better hydration effect compared to water. It contains a negligible amount of sugar, low carbs (2g per stick), and low calories (20kcal per stick). The traditional Oral Rehydration Solution (ORS) requires sugar as a mandatory ingredient, however, IV2 Group Inc. explained that IV2 can hydrate effectively without the usage of sugar by their AAA Formula™ (Advanced Amino Acid electrolyte hydration Accelerator Formula). IV2 Group Inc. has also strengthened the formula with six essential vitamins and minerals. Also, IV2 is non-GMO, gluten-free, dairy-free, and vegan.
The founder of IV2 Group Inc., Woncheol Lee served as a medical doctor in the South Korean special forces in 2016. The concept of IV2 came to him while witnessing soldiers under severe dehydration during training. He wanted to find a better way to hydrate the soldiers without using the traditional I.V. injections. As a result, he launched his first Oral Rehydration Solution (ORS) called Lingtea in South Korea in 2017. Lingtea is now the top-selling ORS brand in South Korea with accumulated sales of over 40 million dollars. Dr. Woncheol Lee is now suggesting IV2, the next-level electrolytes drink mix in the United States for better hydration.
In June 2022, IV2 Group Inc. has donated 6,000 IV2 sticks and 120 IV2 bottles to the U.S. & South Korean Special Warfare Command for their joint training at the Fort Irwin National Training Center (NTC), a large outdoor training ground in the Mojave Desert, California.
IV2 is now in pre-launch on Kickstarter and will be officially launched on August 16th, 2022.
Media Contact
Company Name: IV2 Group Inc.
Contact Person: Logan Bae
Email: Send Email
Country: United States
Website: iv2-hydration.com