Ruumble, a New Revolutionary App Dating Game, Connects Potential Matches After Asking AI-Generated Questions
It all starts with the first glimpse of each other's profiles. However, physical attraction is only the first step. The app narrows down and grabs the match's attention with best-suited questions that really make users want to know more about each other.
There is a criterion in successful matches that lead to dates; The Ruumble app concept is based on that criterion. The pattern is physical attraction, a good conversation, chemistry, relevance, safety, humor, similar values, focus on the date, and curiosity.
The Ruumble Q&A dating game contains all that and starts when two users like each other. Through 4 timed rounds of targeted questions, they get a better idea of who it is they're matched with.
Through 4 rounds of Ruumble questions, candidates finally get to know the persons they matched with. The game unlocks topics and activities that interest both.
After each round, users see the opponent's answer, and then they can decide whether or not to quit or move further. Once the game ends, it feels natural to continue an ongoing conversation; both are curious and want more from each other.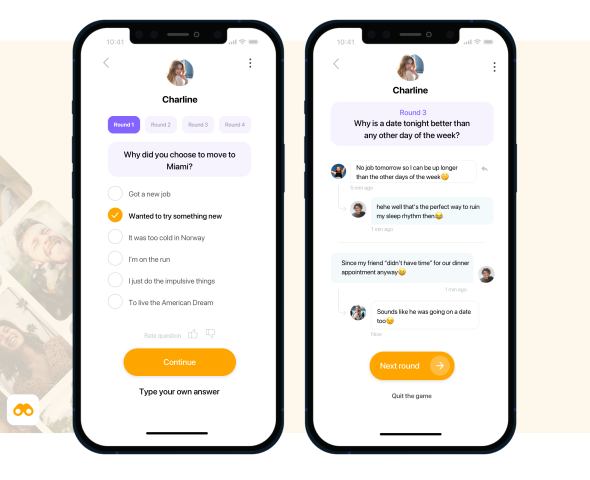 As seen in the pictures, Ruumble contains personal questions targeted at people who Like each other. The most important thing is to be honest so the app can help users find exactly the type of person they want to talk to.
"Ruumble can be looked at as an intelligent wingman who understands the user's dating needs. It provides a background story about your match, so you have a better idea of who you're dealing with, helping you avoid any red flags beforehand," says Mathias Mønsted from Ruumble.
Ruumble delivers the most personal and anonymous experience with any match. However, dishonesty can lead to bad experiences.
Ruumble values honesty and shows its users the best possible potential matches. This means users don't have to tell a lot about themselves to anyone but only the right people.
Imagine that someone just answers that they're searching for a serious relationship without meaning it because they think it sounds better. Ruumble will immediately work on finding others with the same wishes and automatically match them. This means people can ONLY find the right matches if they are honest on the platform. Otherwise, meeting several people and not 'clicking' with them can be quite tiring.
"Where before it paid off to twist the truth a bit and be aggressive and could tolerate the most rejections on a dating app, it pays off on Ruumble, to be honest, and have social skills, since, on Ruumble, you are not rewarded for dishonesty and aggressiveness, but rather that you are rewarded on its value set," said Asger Lindholm from Ruumble.
On Rumble, women don't feel that it's aggressive and desperate even to take the first step, as it does on most dating platforms where most people only judge one on appearance. Ruumble creates relevance and curiosity.
"According to our data, 71.8% of women make the first move. Ruumble is free, but women also make the majority of upgrades to Ruumble Prime," says Charline, question maker at Ruumble.
Ruumble has already been launched globally on the App Store and on Google Play.
Those interested can download it for free from the following links:
iOS: https://apps.apple.com/dk/app/ruumble-date-meet-with-q-a/id1112947693
Android: https://play.google.com/store/apps/details?id=app.ruumble.dating.meet
Media Contact
Company Name: Ruumble ApS
Contact Person: Asger Lindholm
Email: Send Email
Country: Denmark
Website: ruumble.co