Rotarians remember soldiers on the Festival of Lights, Diwali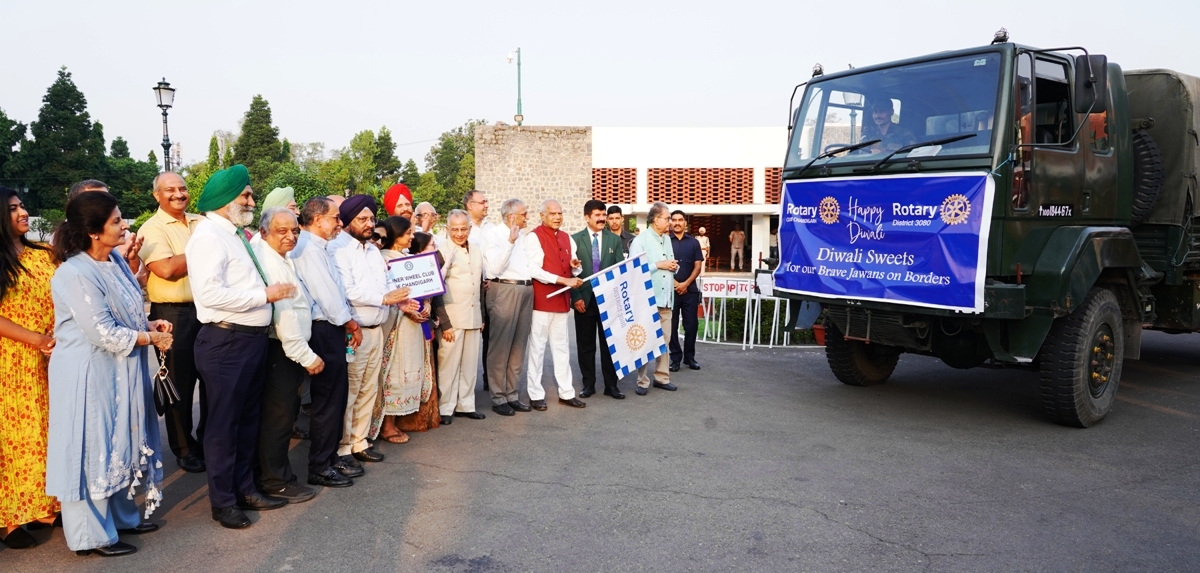 Army trucks carrying 7 tons of Diwali sweets for army jawans was flagged off by Governor of Punjab and Administrator UT Chandigarh Mr Banwarilal Purohit along with Rotarians and Inner Wheel Members
Rotary Club of Chandigarh and Rotarians of Rotary District 3080 joined to send 7 tons of Diwali sweets to the soldiers posted on the borders today.
For the last five years, Rotary Club of Chandigarh and Rotary District 3080 had been keeping their promise to celebrate the festival of lights, Diwali, by remembering the soldiers guarding the Indian borders.
Seven years ago the idea was germinated by the humble Rotarian couple, Usha Saboo and Rajendra K Saboo, the former world president of Rotary International to remember the soldiers on Diwali by sending sweets to them on the borders.
"We can sleep in peace just because these sentinels stand at guard on our borders," says Usha Saboo.
The humble beginning by a few Rotarians was initiated by them by sending the three quintals of special Diwali sweets, and gradually, the fervour caught other Rotarians who decided to join this movement.
Today, the Governor of Punjab and the Administrator of Union Territory of Chandigarh, Mr Banwarilal Purohit, flagged off a consignment of 7 tons of sweets which would be transported on the forward posts to be distributed to jawans who cannot take leave and join their families back home during these festivities.
Former world president Rajendra K Saboo along with District Governor of Rotary International District 3080, V.P. Kalta, along with other senior Rotarians of Rotary Club Chandigarh, and members of the Inner Wheel Club Chandigarh, joined this formal ceremony in the percincts of Punjab Raj Bhawan.
This is just a humble remembrance and our gesture to our brave soldiers to acknowledge their presence and the role they play in protecting our motherland.
Rotary President Vinod Kapoor informed that the project was conceived five years back in 2016 by Mrs Usha Saboo wife of former world president of Rotary International Rajendra K Saboo, and the Rotary Club of Chandigarh made it into an annual feature as a regular project.
Media Contact
Company Name: Rotary Club Chandigarh
Contact Person: Rtn Charanjit Singh, Past President
Email: Send Email
Phone: +919316133924
Address:Rotary House, 107A Sector 18A
City: Chandigarh
Country: India
Website: https://rotarychandigarh.com/