Nanochemicals Market To Have $8.94 Billion Size and 5.2% CAGR by 2030, says P&S Intelligence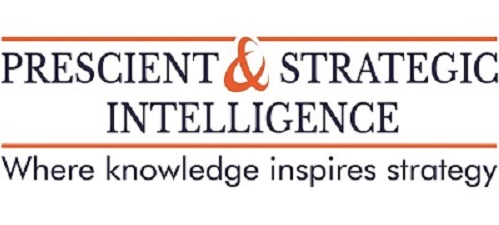 The Asia-Pacific nanochemicals market is expected to witness the highest CAGR, of more than 6.4%, in the forecast period.
According to the recent market research study published by P&S Intelligence, the size of the nanochemicals market was $5.67 billion in 2021, which will reach $8.94 billion by 2030, advancing at a rate of 5.2%. This is because of the rising application of these chemicals in semiconductors, cosmetics, electronics, and pharmaceuticals.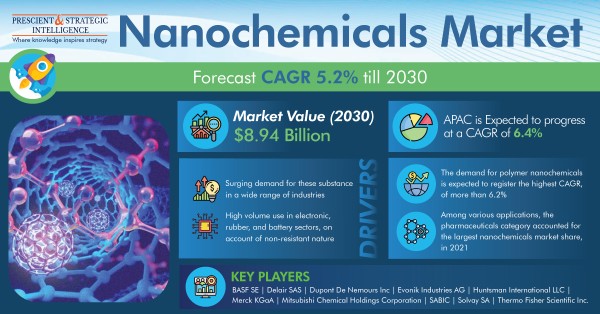 Polymer Nanochemical Usage To Witness Fastest Rise
The demand for polymer nanochemicals will grow at highest rate, of over 6.2%, in the years to come, mainly because of their importance in pharmaceuticals and semiconductor sectors.
Owing to their particle size of 1–1,000 nm, these variants offer numerous advantages, such as heavy use for controlled drug release in the body, ability toprotec drugs and other molecules against microbes, and enhanced bioavailability and therapeutic index of the molecules.
Get the sample pages of this report: https://www.psmarketresearch.com/market-analysis/nanochemicals-market/report-sample
Nanochemicals Are Most Widely Used by Pharma Sector
Pharmaceuticals had the largest share in the past because of the increasing usage of these substances in numerous kinds of drugs. Various types of nanomaterials, including fullerenes, dendrimers, and polymercarriers, are used for taking drug molecules to particular sites inside the body.
Furthermore, nanotechnology-enabled drug delivery has created opportunities in the pharma sector through the reduction of the size of numerous drug molecules, which has brought about an improvement in solubility bioavailability and reduced drug toxicity.
In this regard, the usage of nanochemicals is not only constrained to drug delivery but also contributes to the advance of controlled-release formulations and medical devices.
North America Leads in Market Revenue Generation
North America is the largest market because of the high expenditure on research and development, advancements in technology, and existence of numerous pharma and biotech companies. Furthermore, the increasing count of cancer cases isresponsible for the growing demand for these chemicals for the manufacturing of cancer drugs.
Europe follows North America due to increasing government initiatives for encouraging the usage of these chemicals. The U.K., Russia, and Norway generate the highest requirement for these products. A number of products that have nanochemicals are already being used in these nations, such as coatings, batteries, and anti-bacterial clothing.
Browse detailed report on Global Nanochemicals Market Growth, Development and Demand Forecast to 2030
Largest Growth Potential in APAC
APAC will have the highest growth rate in the future, at 6.4% due to the increasing count of pharmaceutical, semiconductor & electronics, and cosmetics companies. Moreover, the shift of the interest of key players from developing conventional chemicals to nano-based ones is responsible for the tremendous growth potential in this region.
China and India had the major share of the regional market in the past, attributed to the support of government organizations, such as tax benefits, and the increasing FDI.
Nanochemicals Market Size Breakdown by Segment
By Type
Metallic Nanochemicals
Ceramic Nanochemicals
Polymer Nanochemicals
Others
By Application
Semiconductors & Electronics
Pharmaceuticals
Food & Agriculture
Energy
Cosmetics
Textiles
Others
By Region
North America Nanochemicals Market

By type
By application
By country – U.S. and Canada

Europe Nanochemicals Market

By type
By application
By country – Germany, U.K., France, Italy, Spain, and Rest of Europe

Asia-Pacific Nanochemicals Market

By type
By application
By country – China, India, Japan, Australia, South Korea, and Rest of APAC

Latin America Nanochemicals Market

By type
By application
By country – Brazil, Mexico, and Rest of LATAM

Middle East and Africa Nanochemicals Market

By type
By application
By country – Saudi Arabia, South Africa, and Rest of MEA
Browse more related reports
Polymer Market Size by Type, Base Material, Application – Global Industry Growth Forecast to 2030
Green Chemicals Market Size by Product, Application – Global Industry Demand Forecast to 2030
About P&S Intelligence
P&S Intelligence provides market research and consulting services to a vast array of industries across the world. As an enterprising research and consulting company, P&S believes in providing thorough insights on the ever-changing market scenario, to empower companies to make informed decisions and base their business strategies with astuteness. P&S keeps the interest of its clients at heart, which is why the insights we provide are both honest and accurate. Our long list of satisfied clients includes entry-level firms as well as multi-million-dollar businesses and government agencies.
Media Contact
Company Name: P&S Intelligence
Contact Person: Abhishek
Email: Send Email
Phone: +918887787886
Address:Noida Sector 2
City: Noida
State: UP
Country: India
Website: https://www.psmarketresearch.com/market-analysis/nanochemicals-market