The Global Nebulizers Market to Progress at a CAGR of 7.77% by 2027 | Estimates – DelveInsight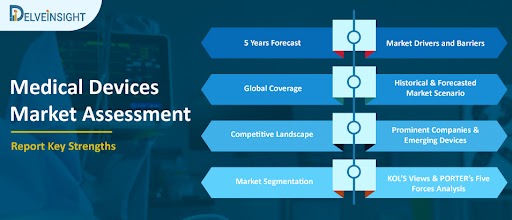 Geographically, Throughout the forecast period, North America is anticipated to dominate the global nebulizers market. The increased incidence of respiratory conditions such COPD, asthma, bronchitis, emphysema, lung cancer, and acute pneumonia is to blame for this dominance.
DelveInsight's "Nebulizers Market" report provides the current and forecast market outlook, forthcoming device innovation, challenges, market drivers and barriers. The report also covers the major emerging products and key Nebulizers companies actively working in the market.
Nebulizers Overview
A medical device called a nebulizer turns liquids into aerosols that can be quickly delivered to the lower respiratory tract. These are frequently used as bronchodilators and aid in the treatment of individuals with respiratory conditions such asthma, cystic fibrosis, chronic obstructive pulmonary disease (COPD), and other respiratory conditions.
DelveInsight Analysis – The Global Nebulizers market was valued at USD 1.30 billion in the year 2021 and is anticipated to grow with a CAGR of 7.77% during the forecasted period (2022-2027)
To know more about why North America is leading the market growth in the Nebulizers market, get a snapshot of the report Nebulizers Market Trends
Recent Developments in the Nebulizers Market Report
In September 24, 2021, Resyca, Recipharm collaborated with Medspray, and had boarded its first pharmaceutical customer on their soft mist inhaler (SMI) platform. The SMI platform includes a portable disposable nebulizer with a micro spray nozzle created by spray expert Medspray, to produce a near-monodisperse aerosol with a high lung dosage.
In August 2021, Smiths Medical announced the launch of the acapella® choice blue vibratory PEP therapy system. Vibratory PEP therapy is a drug-free supplemental treatment that can reduce COPD flare-ups and hospital length of stay by 1.5 days. The acapella® choice blue system is designed to effectively deliver medication when combined with a nebulizer.
Thus, owing to such developments in the market, rapid growth will be observed in the Nebulizers market during the forecast period
To read more about the latest highlights related to Nebulizers, get a snapshot of the key highlights entailed in the Nebulizers Market Report
Key Players in the Nebulizers Market
Some of the key market players operating in the Nebulizers market include- TKoninklijke Philips N.V., Omron Healthcare, Inc., Aerogen, PARI GmbH, GF Health Products, Inc., Allied Healthcare Products Inc., TEKCELEO, BMC Medical Co., Ltd., Medtronic PLC, Invacare Corporation, Trudell Medical International, Nouvag AG, Timesco Healthcare Ltd., LAICA S.p.A., Vega Technologies Inc., Besco Medical Limited, DeVilbiss Healthcare LLC, Feellife Health Inc., Convexity Scientific Inc., Rossmax International Ltd., and others.
COVID-19 Impact Analysis on the Nebulizers Market
Additionally, The COVID-19 pandemic, the rise in cigarette smoking, the increased prevalence of respiratory conditions including asthma and COPD, the need for devices that can be used at home, and technological improvements with regard to the device are the main market driving factors for nebulizers.
Scope of the Nebulizers Market Report
Coverage: Global
Study Period: 2019–2027
Nebulizers By Service Type: (Pneumatic Nebulizer, Ultrasonic Nebulizer, Mesh Nebulizer), and others
Nebulizers By Portability: (Tabletop Nebulizer, Portable Nebulizer), and others
Nebulizers By End-User: (Hospitals and Clinics, Ambulatory Surgical Centers (ASC), Emergency Centers,), and others
Nebulizers Market Segmentation By Geography: North America, Europe, Asia-Pacific, and Rest of the World
Key Nebulizers Companies: Koninklijke Philips N.V., Omron Healthcare, Inc., Aerogen, PARI GmbH, GF Health Products, Inc., Allied Healthcare Products Inc., TEKCELEO, BMC Medical Co., Ltd., Medtronic PLC, Invacare Corporation, Trudell Medical International, Nouvag AG, Timesco Healthcare Ltd., LAICA S.p.A., Vega Technologies Inc., Besco Medical Limited, DeVilbiss Healthcare LLC, Feellife Health Inc., Convexity Scientific Inc., Rossmax International Ltd., among others
Porter's Five Forces Analysis, Product Profiles, Case Studies, KOL's Views, Analyst's View
Which MedTech key players in the Nebulizers market are set to emerge as the trendsetter, explore @ Nebulizers Key Companies
Table of Contents
| | |
| --- | --- |
| 1 | Nebulizers Market Report Introduction |
| 2 | Nebulizers Market Executive summary |
| 3 | Regulatory and Patent Analysis |
| 4 | Nebulizers Market Key Factors Analysis |
| 5 | Porter's Five Forces Analysis |
| 6 | COVID-19 Impact Analysis on Nebulizers Market |
| 7 | Nebulizers Market Layout |
| 8 | Global Company Share Analysis – Key 3-5 Companies |
| 9 | Company and Product Profiles |
| 10 | Project Approach |
| 11. | About DelveInsight |
Interested in knowing how the Nebulizers market will grow by 2027? Click to get a snapshot of the Nebulizers Market Analysis
Media Contact
Company Name: DelveInsight
Contact Person: Gaurav Bora
Email: Send Email
Phone: 9193216187
Address:304 S. Jones Blvd #2432
City: Las Vegas
State: NV 89107
Country: United States
Website: https://www.delveinsight.com/consulting