Mangia NYC, New York's Iconic Eatery, Launches a New Greek Yogurt Line
Mangia Yogurt Cups, the newest addition to the famed restaurant's private food label, are available in four fresh, bold flavors.
December 23, 2022 – New York, New York – Mangia NYC, a legendary New York restaurant, is proud to introduce their new Mangia Yogurt Cups. The restaurant, which has been a pioneer in the farm-to-table fresh movement for over forty years, is now offering their exclusive natural Greek yogurt cups in four bold flavors: strawberry, peach, vanilla, and plain.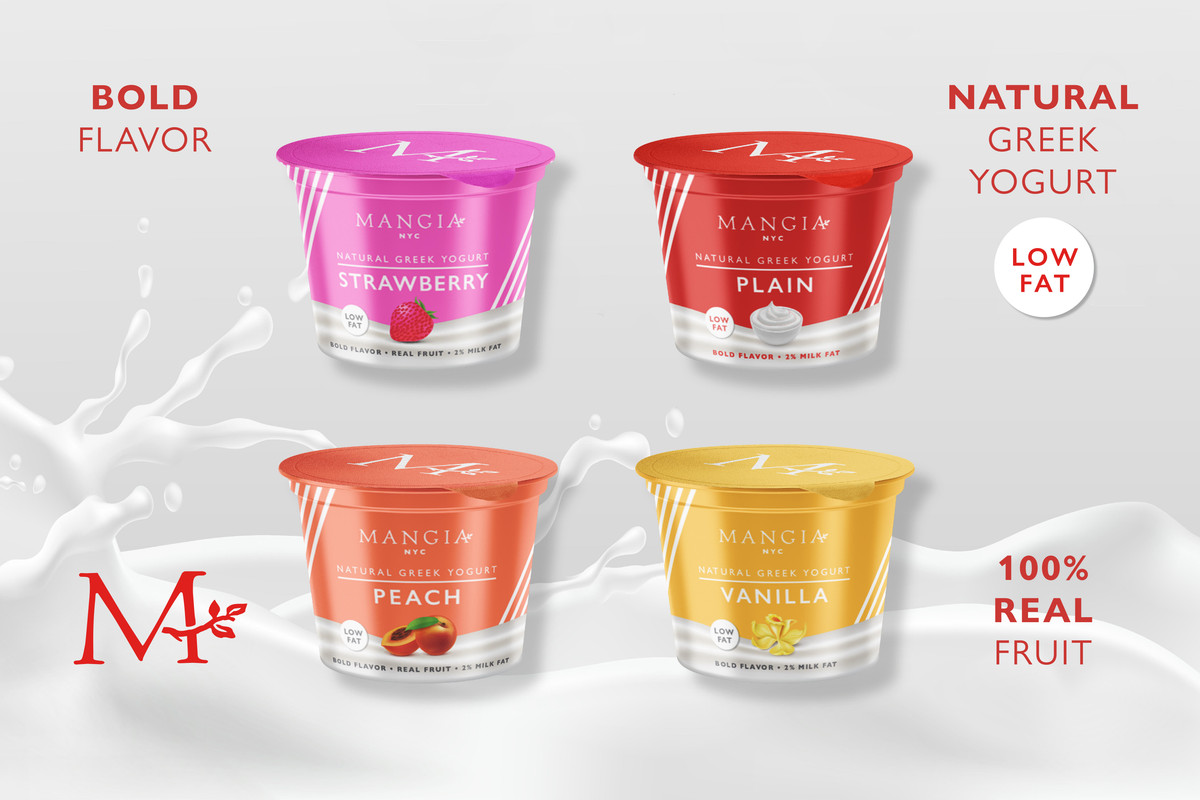 "We are proud to use only 100 percent natural ingredients and introduce to New Yorkers natural Greek yogurt in a cup," Sasha Muniak, founder of Mangia NYC, said. "It is easy to eat at home, at the office or on the go! Our yogurts are bold in flavor, low fat, rich in protein and calcium."
To give their yogurt a distinct and bold flavor, Mangia NYC uses real, locally sourced fresh fruit. The tasty fruit chunks give the yogurt texture, making it interesting and slightly crunchy. What is more, in keeping with Mangia NYC's commitment to using only the freshest ingredients, this yogurt is high in protein, vitamins, and probiotics while also being free of artificial flavors. It is also GMO-free, gluten-free, and kosher. Likewise, it is made with an exclusive formula imported from Greece by a family business that has been producing yogurt for generations. Each cup is $4.95 and is perfectly balanced for a rich flavor and creamy texture.
Mangia has transformed how New Yorkers eat breakfast and lunch, as well as the city's corporate and events catering industries, over the last four decades. The acclaimed café, which has always been a trailblazer, is excited to introduce its new Mangia NYC Natural Greek Yogurt Cups, which are available in all Mangia retail locations and through their professional catering services.
About Mangia NYC:
Mangia is a New York City-based gourmet restaurant chain that has been recognized for more than four decades as the best artisan Italian eatery at the forefront of the farm-to-table fresh ingredients movement and on-demand sustainable catering. The forward-thinking restaurant, renowned for its delicious food, environmentally conscious philosophy, and excellent customer service, encourages diners to "Live the Life You Love."
CONTACT: To learn more about Mangia NYC, their new Natural Greek Yogurt Cups, or to schedule an interview for an article, please contact us.
Website: https://mangia.nyc/
Mangia NYC
Phone: 212-980-6363
Address: 50 W. 57th St., New York, New York 10019
Social Media:
https://www.instagram.com/mangia_nyc_official/
https://www.facebook.com/MangiaNYC
https://www.pinterest.com/mangianyc/_created/
Media Contact
Company Name: Mangia NYC
Contact Person: Sasha Muniak, Founder
Email: Send Email
Phone: (212) 980-6363
Address:50 W 57th St
City: Manhattan
State: NEW YORK 10019
Country: United States
Website: https://mangia.nyc/